Depictions of frugality in movies and TV are few and far between. In fantasy realities where a single mom can afford a two-bedroom apartment in New York City on a waitress' salary, talking about money can tank the illusion.
That's why it's such a treat to see characters that have a solid footing in reality when it comes to their finances. Here are some of the best examples of characters that behave like conscious consumers — but occasionally go to extreme lengths to save a couple of bucks.
Julius Rock – "Everybody Hates Chris"
Hardworking Julius is not afraid to look like a cheapskate in front of his family. He works multiple jobs and is always reminding his wife and kids about the cost of everything, including food, electricity, and clothes. When someone spills milk on the dining room table, Julius says, "That's 49 cents of spilled milk dripping all over my table. Somebody gonna drink this milk."
Julius might seem stingy, but as a product of the projects, he's wary of overspending. At one point, Chris asks his father for an allowance so he can save up to buy a leather jacket. Julius objects, saying he already pays for everything else Chris has. "Why should I give you an allowance when I already pay for everything you do?"
Takeaway: According to a report from The Guardian, Americans throw away about 50 percent of the food they buy, whereas Julius is trying to save his family hundreds of dollars every year by avoiding food waste. While you don't have to be as thrifty as the Rock family patriarch, it wouldn't hurt to eat food like fruit, vegetables, dairy products, and meat before they spoil to avoid wasting your paycheck.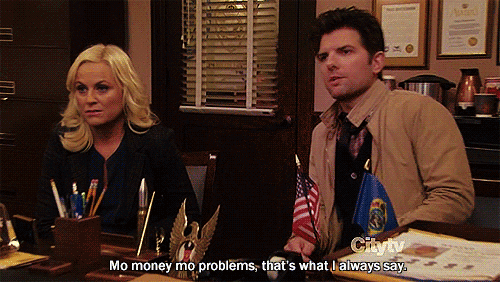 Ben Wyatt – "Parks and Recreation"
Accountant Ben Wyatt might be one of the best depictions of a true, and sane, frugalite. After getting elected as the mayor of his small town in Minnesota when he was 18, he bankrupted it shortly thereafter. (His teenage self thought it would be a good idea to open a winter sports complex called "Ice Town.")
Because of this, he lives simply and practically. He doesn't worry about clipping coupons or skipping the necessities. He drives to work and has a sensible Saturn instead of a flashy Mercedes. Overall, he is careful about how he spends money without being a caricature of thriftiness.
In "Camping," the entire parks department goes on a camping trip to brainstorm ideas to make money. While the other staffers bring tents and camping equipment, Ben only brings a sleeping bag. When his co-worker Jerry asks why Ben didn't bring a tent, he replies, "Well, I don't really go camping ever, Jerry, so I'm not going to spend $150 on a tent."
Luckily Ben gets bailed out by his coworkers — but his commitment to frugality is impressive to witness.
Takeaway: Spending a lot of money for one night that probably won't happen again is pointless, but borrowing or renting something instead will help you avoid unnecessary purchases.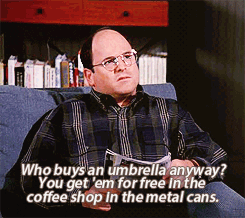 George Costanza – "Seinfeld"
George Costanza is mainly known for being Jerry's sidekick, and in the nine-season series he floats between being unemployed and working for the Yankees. He is also known for being selfish, inconsiderate — and cheap.
In a memorable example, he encourages his fiancee Susan to choose the cheapest envelopes for their wedding invitations. She goes along with it, but dies licking them due to the toxic glue.
During another episode, he gives out Christmas cards to coworkers saying that a donation had been made in their name to the Human Fund — a fake charity. George uses the opportunity to save on Christmas presents while appearing generous to his colleagues.
Takeaway: Being frugal and saving money is a virtue, but when you're putting people's lives in danger because of it, you're just being cheap. If you want a healthy relationship with your finances, learn to recognize the difference between being responsible and being miserly.
Carl Weathers – "Arrested Development"
If you've ever seen the TV show "Arrested Development," you probably remember the cameos by actor Carl Weathers, famous for the "Rocky" series and "Predator." You may not remember his significance in the story — maybe you weren't even aware of his fame outside the show. What you probably remember is his excessive, often absurd commitment to frugality and mooching.
From bragging about how he intentionally gets bumped from flights so he can get reward vouchers to raving about Burger King's free drink refill policy to his cheap tips on how to make stew, Carl Weathers has to be one of the strangest, most frugal characters in recent TV history.
Forrest Gump – "Forrest Gump"
While Forrest isn't known for his school smarts, he does have a way with money. While recovering from an injury during the Vietnam War, Forrest becomes a ping pong prodigy. He receives a $25,000 sponsorship from a ping pong paddle company and uses the profits to start the successful Bubba Gump Shrimp Company with Lieutenant Dan.
Lieutenant Dan then invests some profits from the Bubba Gump Shrimp Company into Apple Inc. Some estimate that their total stake today would be $7 billion.
But Forrest doesn't act like a billionaire. He still lives in the house he grew up in and teaches his son the same basic values his mom taught him — that kindness and loyalty are what matter most.
Takeaway: Even if you're doing well, you don't have to scale your lifestyle to match your income. Live frugally and save as much as possible so you'll have enough to retire early or survive a financial and/or health-related setback.
Did we provide the information you needed? If not let us know and we'll improve this page.
Let us know if you liked the post. That's the only way we can improve.